Event marketing, planning & production
Word of mouth has been the strongest marketing tactic since the dawn of time. It may seem like everything's gone digital these days, but meeting your clients, customers or donors in person is still the best way to gain trust and build relationships. Driving business success and/or increasing donations to your non-profit organization is all about who you know.
We have years of experience elevating global brands using complete marketing services. Celebrity wranglers? We have you covered. Digital marketing and publicity? We're your one-stop shop. Social media engagement? Look no further than our expert event planners.
Elevate my events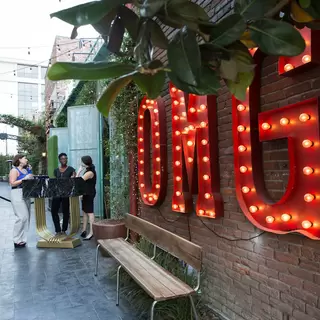 Our first goal is to get you the attendees you need, but we don't stop there. Our event production experts take advantage of established relationships with top vendors and partners to make your event run smoothly. We make sure you have the best catering, corporate partnerships and decor services in the area, and so much more. We can even handle ticket sales and donations. You get to focus on building vital relationships with your donors, sponsors and attendees, and we handle all the moving parts.
Our specialty is in complete event marketing strategies, and our years of experience have shown that live events are a pivotal part of raising funds for your non-profit, kicking off a new business or boosting a campaign for new products or services.
We help you generate the buzz your great idea deserves, and we do it effectively and efficiently so you can grow your bottom line without stress.
A few of our favorite event moments
We love helping brands succeed and are super interested in hearing about your ideas. Reach out to our expert event planners and brand marketing specialists in Los Angeles, and we'll plan your event start to finish—wherever!
Get started