Digital Mindmap
The best thing about digital marketing is that there are so many opportunities. And the worst thing about it is that there are so many opportunities. It takes a lot of effort to choose the right channels, determine the right audience, and create the right collateral. The thought of putting it all into a comprehensive plan? No thank you! But that's where our expert strategists come in.
As a center-brained agency driven by data but inspired by creative, we've built a detailed exploratory process to make digital marketing way less daunting: first an educational Digital Mindmap, then an inspirational Creative Mindmap, and then an analytical Roadmap.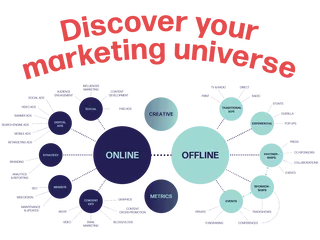 From Digital Mindmap to Digital Marketing
A Digital Mindmap is a one-hour whiteboard session where our marketing mavens outline multiple areas of opportunity to elevate your brand consistently and cohesively across online and offline channels. It also allows you to get a sense of our process and our team. We find that the Mindmap alleviates the stress of the unknown and pinpoints critical gaps in your digital strategy. At the end of the session, you walk away (or, you know, log out) with clearer goals and paths to achieve them.
During the interactive meeting, we can dive deep into any of the following based on your needs:
Marketing goals

Marketing budget and allocation

Marketing touchpoints

Marketing funnel

Marketing SWOT analysis
Although we cover all these seemingly monstrously important components to your digital marketing strategy, our team makes it fun and gratifying to make sure you enjoy the process just as much as we do.
Does it sound like a good time? Book your very own Digital Mindmap with us!
Schedule my Digital Mindmap
In our best Ron Popeil voice: "But wait… there's more!" If you want our full discovery phrase process, your Digital Mindmap will be followed by a Creative Mindmap, another whiteboard session that takes you through our creative process.
Read about Creative Mindmaps