Creative Mindmap
Everyone is creative, but not everyone can refine a creative process or perspective. That is what our Creative Mindmap session does. It's a crucial step in our client discovery phase where we explore your brand through engaging exercises, such as Word Vomit, WWWWWHat and Content Matrices—to name a few. EMB experts poke and prod with strategic questions to better understand your brand at its core. Not only does this allow our team to get to know you quickly, but it also creates consensus in your team and reveals gaps in your creative strategy. Win-win!
This session is the second step in our exploratory discovery process. It's the middle child, if you will, between our Digital Mindmap and our Roadmap. Except there's no Middle Child Syndrome here; this session is one of our favorites.
Since every brand is unique, every Creative Mindmap session is unique. This one-and-a-half hour session allows our experts to focus on specific creative exercises that will elevate your brand based on your specific marketing goals, whether you're a B2B SAAS, a B2C retail brand, or something in between.
We usually start with what we call Word Vomit, where we identify and define your "Yes" and "No" words to create guardrails around your brand vernacular. Then, we will deep-dive into your "aboutness," or the who, what, when, where, why and how of your brand story. (We call this the WWWWWHat.) You'd be surprised what insights we can pull with a few strategically worded questions! From there, we let your needs (and our creative intuition) guide us—to creating content matrices, developing your audience personas or even ideating creative campaigns.
At the end of your session, you'll receive a live link to our proprietary Creative Mindmap board. That way, if you ever need to go back to the conversation and remind yourself of, or share with others, the ideation we did together, it's all in one easy-to-find document.
Sounds like fun, right? We think you'll love it! Contact us today to book a Creative Mindmap session.
Schedule my Creative Mindmap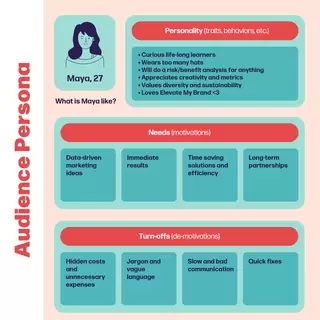 Are you all in? Then you might as well go ahead and get a Roadmap report as well! This is the third and final step in our discovery phrase, and it explores your brand's online presence from a data-driven perspective.
In short: it gets you from point A to point EMB.
Read about the Roadmap