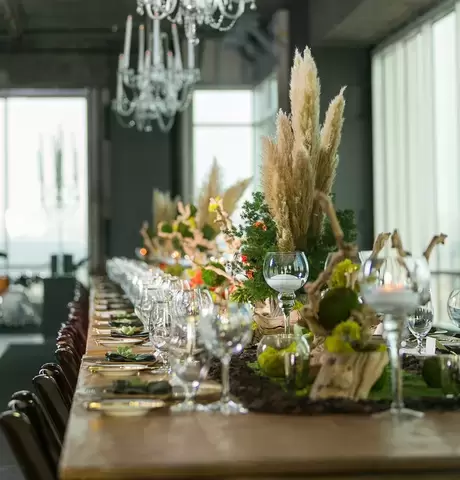 The ABCs of Event Designing: Choosing a Theme
One of the most important decisions you have to make when planning your event is to choose a theme. The theme of your event dictates almost everything including venue, dress code, food, and, of course, entertainment. Your entire event hinges on a memorable, appropriate and artistic theme, so choosing a great one is the most important step.
Step 1: To choose your theme, the most important consideration is always your guest. I always want to know what type of people will be attending my event, so I can be mindful of their interests and values. My main priority, as host, is to ensure that the guests enjoy themselves and feel comfortable within the world of the theme. The best event is one that allows the guests' imagination to run wild. If you choose a theme that is foreign or alienating to the guests, you may end up with a room full of complainers. The best theme is one that relaxes them socially, touches them emotionally and awes them artistically, so they will talk about the event for years to come!
Step 2: Your theme should also have a strong objective, goal, or purpose, for the event. What do I want my event to accomplish? You can't pick a theme without answering this critical question. Do I want my guests to cherish a certain wedding couple? Do I want a group of CEO's to remember the nostalgic 1960's? Do I want 300 wealthy donors to love endangered animals? A theme without a clear purpose will appear weak and vague, and leave guests feeling confused. A lack of purpose also tells your client that you are not prepared. (And lack of preparation will kill your next job with the client!) By contrast, having a strong and concise purpose allows you to easily define your theme, then develop the creative aspects and organize the technical needs of the event. Too many event designers lose sight of purpose, and get caught up in creativity alone. This leads to chaos. I find the best way to clarify my event's purpose is to document my process... with a journal, visual aids, inspiration boards, models, drawings and computer mock-ups. These tools enable me to pre-visualize the project, and it's much easier to find cohesiveness with theme, the guest's needs and, of course, the event's purpose.
Step 3: While you should select a theme that is important to the guest, you should also select one that you will enjoy planning the event around. After all, the success of your event weighs heavily on how much you will put into it. It is one of the elements that everyone notices right from the start. The more you commit to your theme, the more your event will shine. Also, consider you will spend more time on this theme and event than anyone else, so it will need to be something to sustain you creatively, through the long and bumpy process. There's nothing worse than putting a lot of effort and energy into your theme, and halfway through the planning process, you become bored with the idea!
To put a bow on this, choosing a theme can be very exciting and rewarding, but it can also be the beginning of the end of your entire event. So, take care to consider the key items: your guest, your event's purpose, and YOU when deciding your theme. Having a strong theme will help ensure your success with any event you are planning. Once the theme is decided, the next step... DECOR!
ABOUT THE AUTHOR:
A native of Brewton, Alabama, Jacob leverages past experiences in entertainment and marketing to produce unique, memorable designs that elevate your special day beyond expectations. His careful organization and detailed planning take away your stress to let you enjoy your moment. See his beautiful designs at Bells & Whistles!