In The Press: Inside the Mind of an Inclusive Investor: Laurel Mintz of Fabric VC and Elevate My Brand
Investing in beauty and wellness brands can be tricky, especially when considering the saturated market. According to Laurel Mintz, General Partner of Fabric VC and CEO of Elevate My Brand, Inc., being unique is key. Mintz explains, "I think they need to consider that they are in a hugely saturated market, so they need to be incredibly differentiated whether that's packaging, brand name, targeting or ingredients". In a recent interview with Global Cosmetic Industry Magazine, Mintz discussed her thoughts on investing in diverse, queer, BOPIC, and woman-owned brands in consumer tech.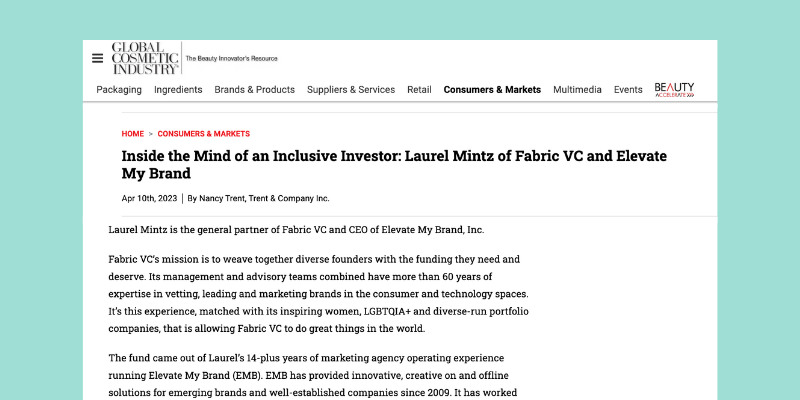 Mintz emphasized the importance of strong leadership, effective operations, and smart marketing strategies. For her, a great founder and management team have a holistic perspective on growth and are solution-oriented. When it comes to the beauty and wellness sector, she's excited about the emerging science and research on brain health, mushroom and ketamine therapies, and wellness outcomes.
For brands seeking investors, Mintz offered some tips on creating a polished investor deck. It should have all the necessary components, but also be visually appealing. Investors have short attention spans, so the deck should be concise and well-designed. Hiring a graphic designer can be a smart move for companies looking to impress potential investors.
Read the article here.