EMBiz: Thankful for Failure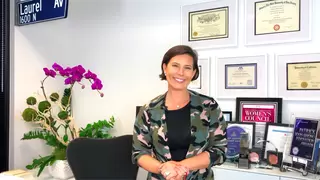 Laurel Mintz
Hi guys, Laurel Mintz here with Elevate My Brand. I can't believe the end of the year is so close and of course Thanksgiving is around the corner. And so in light of that, we thought we would talk about being thankful for failure. Now I know it seems a little counterintuitive, but this has been a really interesting year for us. And I'm going to be very transparent with you guys - we lost one of our biggest clients and I had a brief moment of panic until I realized we had done so much for this brand. We had built it from nothing and they've been with us for three years and, because of the great work we did, they were able to evolve past us and bring in a whole inhouse team to launch the brand in a more global capacity.
So it was really all about perspective and of course thinking about what is new and next for us in terms of our clients. And I have to say, the next day I think we closed two new pieces of business and I was like "Oh gotcha universe, you have a plan". So it's amazing how what we can kind of think as failures are actually really the evolution of who we are. From a business perspective and from a personal perspective, I really try and look at every failure as a lesson. What is it that the universe is trying to tell me? In this case it was "We've got your back, there's more coming down the road. There is enough out there for everyone. Don't worry".
I also think that failures and how you respond to failure is very character building and more even than character building, it actually showcases who you are and how far you've grown as a human. So I have to say maybe two/three years ago, if this had happened then, I might have had a panic, I might have taken that out on my team a little bit. But instead, because I've done so much personal work and so much business growth, I was able to look at is as a really great opportunity for us to hustle harder for the next piece of business.
So, again, I know it's counterintuitive, but there are probably no better ways to understand how you can evolve and be the best version of yourself than when your back is up against the wall. That's when true character comes out, and that's when the biggest opportunities for growth will present themselves. So be grateful for failure. We're grateful for all of you, our viewers. I'm grateful for my team, and we hope you have a fantastic Thanksgiving.