EMBiz: Mindfulness at Work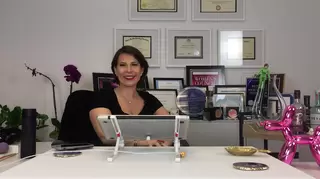 Laurel Mintz, CEO & Founder
Mindfulness is something that I really pride myself on, not only in my personal life but also in my work environment. At the end of the day we're all people and people need support, love, and compassion. We also need moments throughout the workday where we can take a breath and really center ourselves so that we can show up the best for not only ourselves, but also for our team and our clients.
One of the things we do at EMB to stay mindful at the office is our "Monday Morning Woo". Every Monday morning, we start off our day by doing something that is really mindful whether that's a 10 minute meditation or what we call "Gratitudes" where everyone goes around the table and tells the other person why they're grateful for them. Sometimes it's just about creating a moment of peace and sometimes it's about creating that fun and playful energy.
Mindfulness is so important, especially in the workplace. I know we think about it a lot personally but I can't tell you how big the impact has been for my team and what great feedback I have received from them. It's so important that they know that I feel deeply for them and that they need space and time in their day to day operations so that they can be the best version of themselves. So I hope that you'll take the time today to breathe, either by yourself in your office or hopefully with your team, and come up with some ways that you can really instill mindfulness in your own workplace and be a really thoughtful leader.