EMBiz: Inbound Marketing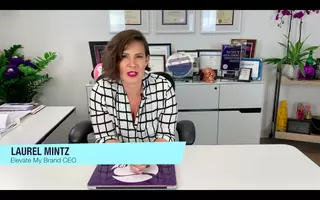 Laurel Mintz
Hi guys, Laurel Mintz here with Elevate My Brand, bringing you some EMBiz tips you can use in your marketing today. Today, we're going to discuss inbound marketing, which essentially distinguishes the difference between push marketing and pull marketing. I firmly believe that pull marketing is more effective, as it leads to better conversion rates. The reasoning is simple; with pull marketing, you're not interrupting or rudely intruding into someone's life at a time and place where they don't want you. Unlike those annoying pop-up ads that we all hate and have to close, inbound marketing focuses on attracting individuals to your brand and starting a conversation around your company.
The goal is to engage people in a way that suits them, allowing you to continue marketing to them when they want to have that conversation. Inbound marketing is like dating in a way; you don't want to come off as overly aggressive to someone who isn't interested. Instead, you aim to draw them into your world through valuable content and social channels, targeting them with the right content at the right time.
Inbound marketing is highly efficient, and although some industries may have their preferences, both push and pull marketing remain relevant. To ensure success, you must have compelling calls to action within your content, leading your audience to take the next steps and move through your sales funnel effectively.
It's about creating wonder and delight within these interactions. Even if your brand may seem boring on the surface, you can still use pull marketing to captivate your audience. For example, Purple Mattress ran a successful campaign that pulled people into their world through a funny video, even if they weren't initially interested in mattresses. This strategy demonstrates the power of pull marketing.
Pull marketing or inbound marketing is more engaging, interesting, and likely to wow your audience compared to push marketing. It's essential to use the right approach, create captivating content, and have effective calls to action to convert your audience properly. That's all for now; stay tuned for more from EMBiz!